Due to the uncertainties posed by the COVID-19 situation, the Greater Cleveland Trails & Greenways Conference Planning Committee has decided to postpone the Conference currently scheduled for June 11, 2020. We are postponing until next year and a new date will likely coincide with other trail-related activity in Cleveland in June, 2021.
We appreciate your steadfast interest in advancing the trail and bikeway network of Greater Cleveland and encourage you, in a safe and healthy manner, to continue exploring and enjoying the trails of our region.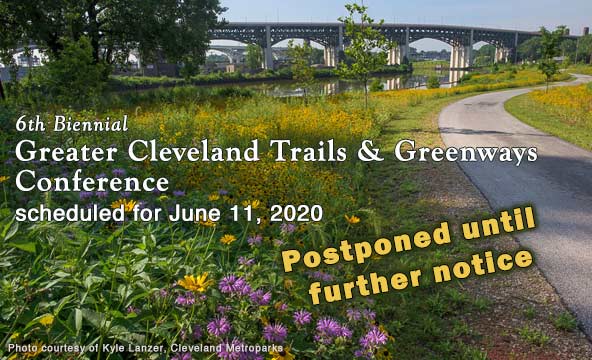 Recognizing the value of trails and greenways, decision makers, planners, practitioners, and trail advocates from around Greater Cleveland will gather at Lago in the Aloft Hotel in the newly redeveloped East Bank of the Flats to share ideas, discover new tools, and set the stage to transform plans and concepts into successfully completed projects.
Building on feedback from our 5 previous, highly-regarded Conferences, this day-long event will include expert speakers, not-to-be-missed mobile workshops (by bike, by boat, by foot, by bus!), peer learning, exhibitors, open discussions, and networking opportunities geared toward creating vibrant neighborhoods through people-powered connections and aiding timely completion of the recreation transportation-choice network in the Greater Cleveland area — including water trails!
Detailed agenda will be posted shortly. CEUs will be available for various professions. Interested in sponsoring? Contact us!
Trails & Programs Showcase, Champions, & Conference Reception
The Trails Projects and Programs Showcase and Conference Reception features spirits/hors d'oeuvres. Our Showcase is an opportunity for municipalities, non-profits, park systems and for-profit enterprises to highlight their accomplishments and share best practices on the development and construction of trails, bike lanes and related facilities as well as creative programming conducted on these facilities. It's not too soon to review your plans and accomplishments and prepare your submission(s).
Included in the festivities is a special tribute to one or more individuals who have made notable contributions to the development, use and enjoyment of our region's network of trails, bikeways and greenways. Is there a Champion you would like to nominate for recognition? Find information here