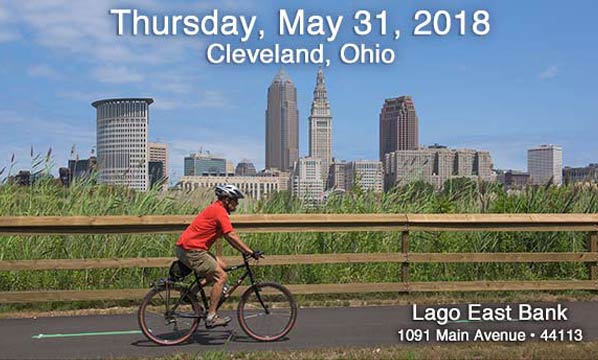 Huge thanks ♥ to everyone who helped make our 2018 Conference a success! Thanks to all our generous sponsors, our presenters and planning partners who liberally gave their time and shared their expertise, and to our attendees! We hope you enjoyed and benefitted from the event. And, thank you, Cleveland weather for your cooperation. ☔ ☺
Please see proceedings from the Conference and Showcase. Please contact us if you have a question about a certificate of attendance for CEUs.
If you did not submit an evaluation or have something more to mention, please email it to info@gctrails.org. Your feedback and suggestions will help in planning future conferences.
The 5th Biennial in 2018 — Urban Focus, Urban Core
See WKYC-TV interviews about our network of trails on the occasion of the 2018 Opening Day for Trails. The plans, the progress, the significance — we couldn't say it any better!Recognizing the value of trails and greenways, decision makers, planners and practitioners, and trail advocates from around Greater Cleveland gathered on May 31st at Lago in the Aloft Hotel in the newly redeveloped East Bank of the Flats to share ideas, discover new tools, and set the stage to transform plans and concepts into successfully completed projects.
Building on feedback from our 4 previous, highly-regarded Conferences, this day-long event included expert speakers, mobile workshops, peer learning, open discussions, and networking opportunities geared toward creating vibrant neighborhoods through people-powered connections and aiding timely completion of the recreation transportation-choice network in the Greater Cleveland area. CEUs were available for various professions.
Trails & Programs Showcase & Conference Reception
The Trails Projects and Programs Showcase and Conference Reception featured spirits/hors d'oeuvres. Our Showcase is an opportunity for municipalities, non-profits, park systems and for-profit enterprises to highlight their accomplishments and share best practices. Included in the 2018 festivities was a special tribute to Bobbi Reichtell as she retires from an exemplary career in community development.
Conference Program (resolution for screen viewing)