Regional Trails Update


Rory Robinson

, Outdoor Recreation Planner, Rivers, Trails and Conservation Assistance Program, National Park Service;

Glenn Coyne

, FAICP, Executive Director, Cuyahoga County Planning Commission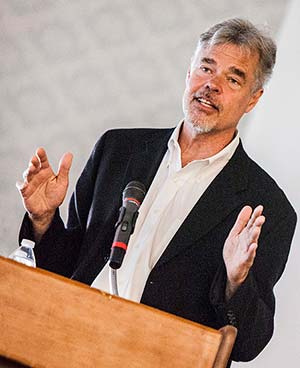 25 Ways to Brighten Your Community and Help Make a Difference in the World
Jay Walljasper, Senior Fellow at Projects for Public Spaces
Neighborhoods are the secret sauce for improving our lives and making a better world. Everybody lives in one—in a city, suburb or rural community. Getting together with the neighbors to make your place in the world more vital, friendly, green and fun can accomplish a lot. Jay shares the insights and inspirations he has collected from around the world that are helping everyday people make a difference in their neighborhoods and the world by working together to implement community building and place-making projects.
Update Required
To play the media you will need to either update your browser to a recent version or update your
Flash plugin
.
Connecting Recreation and Transportation – Cincinnati Connects and the Greater Cleveland Trails Leadership Network


Joey Hood,

Project Manager, Human Nature, Inc.,

Rory Robinson

, Outdoor Recreation Planner, Rivers, Trails and Conservation Assistance Program, National Park Service

Comparison and contrast of the efforts, the reasons for, approaches to, and benefits of developing a network of non-motorized transportation options that connect people, places, stories, resources.

The Cincinnati Connects Plan is a bold vision for a healthy, vibrant, and revitalized city offering enhanced mobility and connectivity for all of its citizens through a robust active transportation network.

The Greater Cleveland Trails Leadership Network is a collaboration to facilitate communication, and drive the regional trail effort raising the visibility, prioritization, funding methods and implementation of a complete the recreation, transportation-choice network.
Developing the Blueprint for Sustainable Natural Surface Trails


Ralph Protano

, Trails Manager, Cleveland Metroparks;

Jim Rodstrom

, Director of Construction, Cleveland Metroparks



A rational process for establishing design standards for any given trail and the best approach for routing and layout on the ground. Emphasis on learning how to "read the ground" to assess suitability for any particular kind of trail or use type. Included:

- Understanding the interrelationships of terrain dynamics and trail users
- Identifying major and minor route control points at the desk and on the ground
- Familiarity with the basics of trail layout from preliminary investigation to marking for construction
- Understanding the importance of aesthetics in supporting trail design choices
The Power of Connection: The Lakefront Creating Economic & Community Impacts
Kelly Coffman, Senior Strategic Park Planner, Cleveland Metroparks; Freddy Collier, Cleveland City Planning Director; Michelle Johnson, Director, Environmental Design Group; Bobbi Reichtell, Executive Director, Campus District, Inc.; Matt Zone, Councilman, City of Cleveland
A look at Cleveland's lakefront greenway—east and west: the overall vision, the plan, how the west side project was accomplished, a look at the recently completed study for the eastside lakefront greenway and connectors to the Campus District and St. Clair Superior neighborhoods, and how important the built environment is for creating healthy communities. The importance of connecting people to the lakefront for both economic development and health impacts.

The Crowning Connection of the Towpath Trail: Canal Basin Park
George Cantor, AICP, Chief City Planner, Cleveland City Planning Commission; Tim Donovan, Executive Director, Canalway Partners; Jeffrey Kerr, ASLA, AICP, Principal, Environmental Design Group
Canal Basin Park will celebrate the terminus of the 101-
mile Towpath Trail and serve as Cleveland's gateway to the Ohio & Erie Canalway National Heritage Area. It will also tell the story of how the historic Ohio & Erie Canal set the stage for the Cuyahoga River valley to host a period of unprecedented industrial growth in America. Insight into leveraging regional stakeholders in the development of this project and how Canal Basin Park and the associated Towpath Trail can become destinations that support other economic development and regional tourism through physical connections to the urban fabric as well as connections to our industrial history.
Providing for the 8-80: How Different User Groups Affect Facility Design
Michelle Johnson, Director, Environmental Design Group
Bicycle and pedestrian facilities are in high demand by residents all over Ohio. The different types of pedestrian and bicycle users that exist (not all users are the same!) and what types of facilities the different user types want and need. Funding availability for the facilities.
Trails: Making the Healthy Connection
Andrea Irland, Outdoor Recreation Planner, Rivers, Trails and Conservation Assistance Program, National Park Service; Heidi Gullett, MD, MPH, clinical practice at Neighborhood Family Practice, Assistant Professor, CWRU.
Making the case for considering partnerships with the health community when creating recreation opportunities:
Understanding of the multitude of health benefits of trails and parks
Ways to engage the health community in planning, including the use of the Parks, Trails and Health Workbook tool
Take away ideas for healthy community engagement through a variety of programming
Resources such as examples of tangible funding support for parks and trails from a variety of health organizations
Trails: Better Communities. Healthier Environment


Matt Hils

, ASLA, Principal, BEHNKE Landscape Architecture;

Jeffrey Kerr

, ASLA, AICP, Principal, Environmental Design Group

Trails can serve as much more than connectors; they should enhance people's experiences in their communities and improve the environment. Local and national models for both, how your next trail project can utilize diversity, exploration, interpretation, education, solitude, outlooks, and creativity for a rich experience, and tips on planning, design, and construction to protect, enhance, and restore our environment.
Transportation Alternatives – What's Happening in Cleveland?


Jacob VanSickle

, Executive Director, Bike Cleveland;

Amy Snell,

Planning Team Leader,Greater Cleveland Regional Transit Authority;

Michael J. Schipper

, Deputy General Manager, Engineering and Project Management, Greater Cleveland Regional Transit Authority

1) the variety of bicycle facility designs which have been approved by the National Association of City Transportation Officials (NACTO) and recommended by FHWA; 2) how these on-street facilities can be incorporated into a truly connected network of bike facilities in Cleveland ; 3) summary of the active transportation literature to illustrate the impact of different designs on ridership among women, children and minority populations; and 4) review of both Bike Cleveland survey findings and local 2014 Behavior Risk Factor Surveillance Survey data on bike ownership, bike ridership and attitudes toward bike riding among Cleveland survey respondents.
iTowpath: Expanding Connections and Enhancing the Experience


Katelyn Freil

, Communications Coordinator, Ohio & Erie Canalway Coalition;

Kyle T. Lukes

, Landscape Architect;

Chelsea Skiba

, Event & Development Coordinator, Ohio & Erie Canalway Coalition

How your community can rapidly implement ideas that are cost-effective to create a sense of place throughout their community. With more than $750,000 in Knight Foundation and local foundation support, the iTowpath Project is striving to transform the trail experience while engaging the civic core of Akron in an effective, meaningful and lasting way.