Conference Program

(resolution for screen viewing)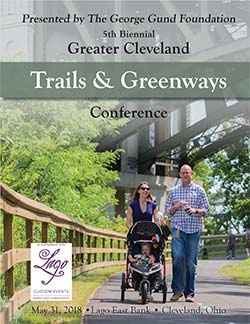 Agenda
7:45 – 8:30 am Registration and Continental Breakfast
8:30 – 9:00 am Welcome and Opening Remarks
Welcome: Matt Gray, Chief of Sustainability, City of Cleveland

Welcome and logistics: Conference Co-chairs Bob Gardin, Executive Director, Big Creek Connects and Derek Schafer, Executive Director, West Creek Conservancy
Ohio's "Year of the Trails"

Presenter: Tom Arbour, State Land and Water Trails Coordinator, Ohio Department of Natural Resources Division of Parks and Watercraft
9:00 – 10:15 am Opening Plenary – The Trails Network: Connecting Greater Cleveland
Presenters: Joe Calabrese, Chief Executive Officer & General Manager, RTA; Freddy Collier, Director, Cleveland City Planning Commission; Glenn Coyne, Executive Director, Cuyahoga County Planning Commission; Grace Gallucci, Executive Director, Northeast Ohio Areawide Coordinating Agency; Brian Zimmerman, Chief Executive Officer, Cleveland Metroparks.

Moderator: Steven Litt, Art and Architecture Critic, The Plain Dealer

Join us for a session focused on the actions being taken by the leadership of Cuyahoga Greenways Partners as they work to complete the recreation, transportation-choice network in the Greater Cleveland area.
10:15 – 10:45 am Break
10:45 – Noon Concurrent Sessions (choose one):
1 – Developing Trails in Northeast Ohio: Concepts, Challenges and Technology

Presenters: Sean McDermott, Chief Planning and Design Officer and Anthony Joy, Chief Information Officer, Cleveland Metroparks; Andrea Irland, Outdoor Recreation Planner, Rivers, Trails and Conservation Assistance Program, National Park Service

Moderator: Jim Kastelic, Research Fellow/Lecturer, Center for Community Planning and Development Maxine Goodman Levin College of Urban Affairs Cleveland State University

Building trails in urban areas often requires overcoming many barriers including freeways and major roads, pipelines, utility corridors and railroad lines, industrial properties and brownfields, reluctant property owners, trail easement encroachments and natural resource protection issues. This session will focus on how Cleveland Metroparks' trail planners have successfully mitigated these and other challenges, as well as how technology is being utilized to monitor trail usage in urban areas.

The session will also feature an update on the efforts to designate the Cuyahoga River as a Water Trail, a proposed recreational corridor on the River suitable for canoes, kayaks and similar small watercraft. This concept, popular on rivers throughout the United States, including ten in Ohio, would enable area residents and visitors to enjoy water access to the Cuyahoga Valley National Park, local and regional parks and areas of interest along much of the Cuyahoga's 85-mile length.
2 – Planning for Inclusion (social equity)

Presenters: Bianca Butts, Manager of Climate Resiliency & Sustainability, Cleveland Neighborhood Progress; Sara Byrnes Maier, Senior Strategic Park Planner, Cleveland Metroparks; Sharonda Whatley, District Planner, Cleveland City Planning Commission

Moderator: Matt Schmidt, Program Manager, The Trust for Public Land


Over the last few years, trail development and implementation has been in full swing throughout various parts of Cleveland. These connections are providing opportunities for more people to gain acess to not only recreational parts of the city, but to jobs and services. To accomplish the overall goal of connecting our Cleveland neighborhoods, we have to ensure that all residents feel connected to the fabric of their neighborhoods and have equal access to opportunities. This is expecially true in areas that historically have been disenfranchised or overlooked. This session looks into the efforts that are being made to not only assure those neighborhoods are included but they are also part of the conversation from the start.
3 – Trails & Greenways in the Economic Development Equation

Presenters: Kathy U. Mulcahy, Mayor of Orange Village; Aaron Pechota, Senior Vice President, NRP Group; Luke Palmisano, President, RMS Investment Corporation

Moderator: Elaine Price, Principal Planner, Cuyahoga County Planning Commission

Developers and municipal leaders will share their stories and thoughts on the role trails and greenspace connections play in siting, designing and marketing of residential and commercial developments. Discussion will include what developers and municipalities need and want from each other regarding trails and greenspace in this modern era.

Noon – 1:00 pm Lunch
1:00 – 3:30 pm Mobile Workshops (choose one):
A – A Tale of Two Trails: Connecting our River and Great Lake to People (55 person limit)

Presenters: Derek Schafer, Executive Director, West Creek Conservancy; Tom McNair, Executive Director, Ohio City Inc.; Dave Vasarhelyi, Sr. Project Manager, The Trust for Public Land; Joel Wimbiscus, LEED AP, Project Manager, LAND Studio

Come take a ride and a hike with us and learn the stories behind building two of the most challenging trail segments in Cleveland. We will walk along the Cuyahoga River on the final stretch of the 110-mile Towpath Trail at Scranton Flats, then take the fork in the trail onto the Cleveland Foundation Centennial-Lake Link Trail to see the how the final mile connecting us to Lake Erie is being accomplished. Along the way you will see and hear how the historic but slowly sinking Irishtown Bend section is finally being resolved through one of the most unique partnerships assembled to build the trail and save the river. The tour will include bus transportation to trail locations and walking of approximately 2 miles on flat, paved terrain. Walking shoes recommended.
B – Lakefront Trail & Towpath Mounds (Sneak Peek): Visioning, Vistas & Valleys (55 person limit)

Presenters: Michelle Johnson, Director, Environmental Design Group; Douglas Blank, Project Manager, Michael Baker International; Jeff Kerr, Vice President / Principal, Environmental Design Group; Tim Donovan, Executive Director, Canalway Partners

(Lakefront West, West 7th, Towpath) Exploring the Design Opportunities and Challenges of the Lakefront West and Tremont Towpath Stage III Trail Systems. This mobile workshop will explore how trail design takes advantage of Cleveland's unique urban environments and uses topography as an asset instead of a project challenge. Includes the sculptural mounds landscape art (see https://bit.ly/2zVsBNZ).
C –Time to Hit the Road! An on-bike workshop of bike facilities (25 person limit)

Presenters: Barb Clint, Executive Director of Clevelanders in Motion, YMCA of Greater Cleveland; Andrew Cross, P.E., PTOE, Traffic Engineer, City of Cleveland; Nancy Lyon-Stadler, P.E., PTOE, Senior Principal Engineer, WSP; Melissa Thompson, Senior Transportation Engineer, Northeast Ohio Areawide Coordinating Agency (NOACA); Jacob VanSickle, Executive Director, Bike Cleveland

Learn about the Veteran's Memorial (Detroit-Superior) Bridge improvements and the upcoming Midway project all from the seat of a bike! Tour will feature the minds behind each project to give participants an opportunity for discussion. Bikes will be provided, though you are welcome to bring your own instead! *Helmets Required.
D –Walking the Flats: Where Industry, History, Entertainment, and Trails Meet

Presenters: Matt Schmidt, Program Manager, The Trust for Public Land; Sean McDermott, Chief Planning & Design Officer; Cleveland Metroparks; Doug Kusak, Historical Interpreter, Cleveland Metroparks

Come take an easy stroll through the historic Cleveland Flats and learn about its past as a hub of industry in the days when the Cuyahoga River burned; its evolution to a destination for nightlife entertainment in the 1980's and 90's; and now into its transformation where Towpath Trail, Canal Basin Park, Lake Link Trail, and Water Taxi's all converge to make the Flats a regional trail destination. The walking tour will cover approximately 1.5-2 miles of flat, paved terrain; and includes a water taxi ride across the Cuyahoga River. Walking shoes recommended.
4:00 – 5:30 pm Trails Recognition Showcase and Conference Reception
The Showcase introduces recent physical (capital) trail or bike facility projects and recreational, fitness and social programming taking place on these facilities. Gain insights for: connecting with successful project and program leaders; applying creative design features; expanding methods of funding; developing and executing new programming for trail and bike facilities; applying best practices for trail and bike facilities and programs.