2018 TRAIL PROJECTS AND PROGRAMS SHOWCASE
Conference Showcases: 2020 | 2018 | 2016 | 2014 | 2012
The Showcase recognizes and awards outstanding trail & bikeway projects, creative trail programming and creative community engagement/project promotion events. The Showcase is an opportunity for municipalities, non-profits, park systems and for-profit enterprises to highlight their accomplishments and share "Best Practices." Thank you to OHM Advisors for Sponsoring the 2018 Showcase and Reception. Included in the festivities was a special tribute to Greenway Champion Bobbi Reichtell as she retired from an exemplary career in community development.
Conference Program (resolution for screen viewing) – Trails Showcase starts on p. 31.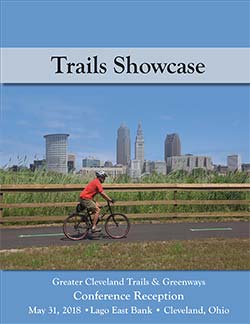 2018 nominations and awards
34 Total Submissions
13 Programs
4 Pop-Ups/Exhibits
17 Physical Projects
6 Counties
11 Municipalities
7 Park Systems
4 Non-Profits
3 Private, For-Profits
PROGRAMS category
Any regular activity or special event on a trail or bike lane for:
Health & fitness
Accessibility, special needs, and socializing
Education and safety
Nature
Culture & history
Promotion of non-motorized mobility & future trail or bikeway facilities
(See Comments/Annotations in the pdfs below)
G1–The Royalview Rumble
G2–EDG-Bike Share Program
G3–Cleveland Safe Routes to School / Bike Education
G4–Black Girls Do Bike: Akron Chapter
G5–Earn a Bike
G6–Random Acts of Brightness
G7–Enforcement for Bicycle and Pedestrian Safety
G8–Bike to Work Day
G9–1st Annual Burning River Ramble
G10–Cuyahoga Valley National Park Cycling School
G11–Emerald Necklace End to End 100 Mile Bridle Trail Ride Challenge
G12–Bridge that Bridges
G13–Bicycle Fleet
POP-UPS category
(See Comments/Annotations in the pdfs below)
P1–Summit Lake — Pop-up Nature Center
P2–Open Streets Cleveland
P3–Rosewood Avenue Street Mural Graphic Positivity
P4–Morgana Run Trail and Public Art Plan
PROJECTS category
Physical project of an off-road trail or on-road lane which has been completed within the past 5 years.
Projects under construction which will be completed in the next year.
(See Comments/Annotations in the pdfs below)
J1–Sylvan Loop Trail
J2–The Thorn Mountain Bike Trail Renovation Project
J3–Hampton Hills Metro Park—Mountain Bike Area
J4–Lake-to-Lake Trail (Phase 2)
J5–City of Euclid Lakefront Development (Phase II - Shoreline Restoration & Rereational Trails)
J6–Cleveland Foundation Centennial Trail North
J7–Headlands Dunes State Nature Preserve Boardwalk Trail
J8–Maple HighlandsTrail - South
J9–Community Connection in Alliance
J10–Detroit-Superior Bridge Protected Bikeway
J11–Lakefront West Multi-Use Path
J12–Fort Hill Steps
J13–East 22nd Street
J14–Edgewater Beach House Community Connector
J15–Valley Parkway Connector Trail (Phases I and II)
J16–Bicycle Fix-it Stations
J17–Cedar Glen Parkway Multipurpose Trail
RECOGNITIONS
Awards: Submissions which earned a Bronze, Silver, Gold or Platinum Award this year along with the rationale statement describing why it was selected.
Recognition Panel
Ginger Christ, The Plain Dealer
Rich Cochran, Western Reserve Land Conservancy
Christine Dersi Davis, American Planning Association
Matt Hills, OHM Advisors
Brian Housh, Rails to Trails Conservancy
Marc Leftkowitz, GreenCityBlueLake
Sylvan Long, City of Oberlin Open Space and Visual Environment Commission
Elaine Price, Cuyahoga County Planning Commission
Angie Schmitt, Street Blogs
Shanelle Smith, Trust for Public Lands, Ohio Showcase Committee
Arthur Schmidt, OHM Advisors